Medicare Front and Center of COVID-19 Response Strategy

Written by

Terry Turner

Terry Turner

Senior Financial Writer and Financial Wellness Facilitator

Terry Turner has more than 35 years of journalism experience, including covering benefits, spending and congressional action on federal programs such as Social Security and Medicare. He is a Certified Financial Wellness Facilitator through the National Wellness Institute and the Foundation for Financial Wellness and a member of the Association for Financial Counseling & Planning Education (AFCPE®).

Read More

Published: February 26, 2021
5 min read time
This page features 11 Cited Research Articles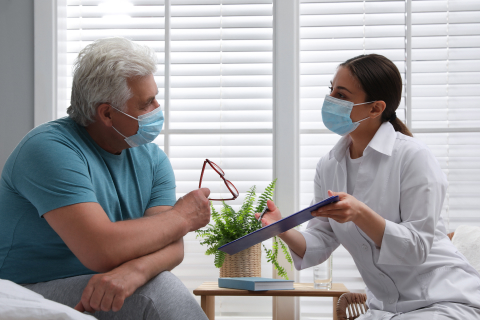 Washington has signaled that Medicare will be a focal point in the federal plan to battle COVID-19 in 2021.
At the same time, research has found Medicare beneficiaries changed the way they used Medicare and even shifted their preference for Medicare plans during the pandemic.
On his first full day in office, President Joe Biden outlined a 200-page national strategy as part of an executive order to address the COVID-19 Pandemic. It calls for Medicare to take an active role in the government's vaccination plans, provide a clearer picture of COVID-19's overall impact on Americans and to increase support for nursing home long-term care and home care beneficiaries and staff.
Even as Medicare ramps up to play an even bigger role in the pandemic response, the costs of responding to the first year of the pandemic has hit Medicare's finances hard.
Congress and the White House will have to act quickly — even as they deal with the pandemic — to keep Medicare on its feet in the long term.
Expanded Benefits, Visibility Part of New COVID-19 Strategy
Medicare is taking a key role in the new COVID-19 strategy in large part because COVID-19 poses a greater risk due to beneficiaries' ages and health vulnerabilities.
By mid-September 2020, Medicare beneficiaries accounted for 1.2 million COVID-19 cases — about 1 in every 5 cases in the United States.
At least 1 in 3 Medicare beneficiaries hospitalized for the disease had either died or been discharged for hospice care by June 2020.
Medicare Ordered to Make Changes to Vaccination Plans
Medicare beneficiaries have been in the earliest rounds of the COVID-19 rollout and the new response strategy calls for Medicare to play a prominent role in the government's full court press to "carry the message about the safety and efficacy of the vaccine."
The plan calls for Medicare to increase incentives for health care providers to vaccinate Medicare beneficiaries. It would be modeled on current incentive programs already in place to promote the annual flu shot.
In addition, the strategy will adapt existing programs within Medicare and the Centers for Disease Control and Prevention to get vaccinations to Medicare beneficiaries.
It directs the U.S. Centers for Medicare & Medicaid Services to use the data it collects through Medicare to identify beneficiaries with the highest risk for COVID-19.
And the strategy taps into the CDC Pharmacy Partnership for Long-Term Care Program to get vaccinations to long-term care residents and staff as quickly as possible.
Stepping up Medicare Long-Term and Home Health Care
The new COVID-19 strategy calls for Medicare to strengthen guidance, requirements and funding for infection control at long-term care facilities. It also addresses what the strategy calls a "workforce crisis" in home health care.
The plan aims to make sure long-term care facilities have enough staff to ensure patient safety and prioritizes getting vaccines to those that have not received them.
Long-term care facilities were among the hardest hit early in the pandemic and remain high-risk.
Less than 1 percent of Americans live in long-term care facilities, but that vulnerable population accounts for roughly 35 percent of COVID-19 deaths in the United States as of mid-February 2021, according to the Atlantic's COVID Tracking Project.
The plan is less specific on how it plans to address home health care services. It simply directs Medicare and the U.S. Department of Health and Human Services to "identify opportunities and funding mechanisms" to support home and community health services.
Medicare to Provide a Clearer Picture of COVID-19 Impact
Medicare maintains a wealth of medical data thanks to the 65 million beneficiaries in its system.
The new strategy aims to tap into that data to better target parts of the population that may have been underserved in the pandemic so far. The idea is that this data can be used to present a clearer picture of what works and doesn't when it comes to combating COVID-19.
Medicare to Report COVID-19 Deaths Based on Following Demographics
Race
Ethnicity
Geography
Disability
Other sociodemographic factors "as feasible"
Medicare will also report data on COVID-19 testing, cases, vaccinations, hospitalizations and treatment therapies used.
Medicare's 2020 Response to COVID-19 Brought Far-Reaching Changes
Medicare's role in the new COVID-19 strategy follows sweeping — and expensive — changes to the program in the first year of the pandemic.
Most Medicare changes in 2020 involved rules affecting doctors, hospitals and other health care providers. Between late July 2020 and the first week of 2021, there were 244 regulatory changes to Medicare.
Nearly every health care provider was affected by at least one of those changes, according to The Commonwealth Fund.
Medicare beneficiaries largely saw only their expanded benefits related to the pandemic. These changes included expansion of covered telehealth services — 19 different changes — and covering many of the costs of COVID-19 testing, vaccination and treatment.
COVID-19 Costs Medicare Covers
COVID-19 vaccinations
FDA-approved and certain FDA-authorized treatments
Lab tests to check for COVID-19
Antibody tests that determine if you had COVID-19 in the past
COVID-19 related inpatient and outpatient medical services
Hospitalizations due to COVID-19 (but you are responsible for your Medicare Part A deductible — $1,484 in 2021
Vaccinations and treatments have to be FDA authorized or approved. Vaccines, for instance, were pressed into use with FDA emergency use authorizations even as they continued to go through the formal FDA approval process.
Pandemic Affected How Beneficiaries Use Medicare
The pandemic appears to have affected how Medicare beneficiaries and their doctors interact and spurred people to look at other Medicare options.
The pandemic was blamed for a 51 percent drop in Medicare fee-for-service claims in the month after it was declared, according to consulting firm Avalere Health.
Fee-for-service is a system of paying for health care in which a doctor, hospital or other health care provider is paid separately for each service provided. This is the method that Original Medicare uses to pay providers.
The number of FFS claims rebounded, but continued to fluctuate through 2020, putting the total for the year below what they were in 2019. The data suggests that Medicare beneficiaries received fewer medical services during the pandemic.
Another survey found a 9 percent year-over-year increase in the number of Medicare beneficiaries opting for Medicare Advantage plans during the first year of the pandemic, according to the American Journal of Managed Care.
About 34 percent of Medicare Advantage plans offer additional, supplemental COVID-19 benefits in 2021. Medicare Advantage plan premiums in 2021 were also estimated to decrease by more than 34 percent since 2017.
Medicare Advantage plans have steadily increased as a share of the Medicare marketplace in the past decade. Prescription drug coverage, affordability and supplemental coverage were the primary reasons for the 2020 increase according to the journal.