How to Save on Incontinence Supplies Original Medicare Won't Cover

Written by

Terry Turner

Terry Turner

Senior Financial Writer and Financial Wellness Facilitator

Terry Turner has more than 35 years of journalism experience, including covering benefits, spending and congressional action on federal programs such as Social Security and Medicare. He is a Certified Financial Wellness Facilitator through the National Wellness Institute and the Foundation for Financial Wellness and a member of the Association for Financial Counseling & Planning Education (AFCPE®).

Read More

Published: May 14, 2021
3 min read time
This page features 9 Cited Research Articles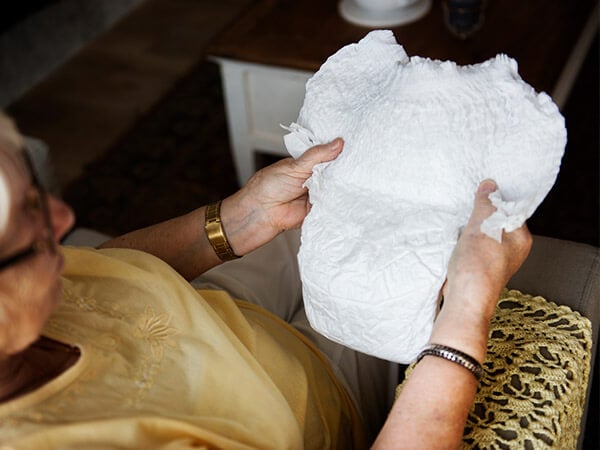 Adult diaper prices have increased nearly 9 percent over the past year, and manufactures say more price hikes are imminent.
Unfortunately for the more than 25 million Americans who experience transient or chronic incontinence, Medicare does not cover disposable incontinence supplies such as absorbent pads and adult diapers.
Original Medicare — Medicare Part A and Part B — will help cover certain medical devices or durable medical equipment used to treat incontinence, including urinary catheters under certain circumstances. But the federal health insurance program only covers medical procedures, items and supplies that are considered medically necessary.
If you're one of the millions of Americans on Medicare who are paying out-of-pocket weekly or monthly for adult diapers, pads or other disposable incontinence supplies, it may save you a good deal of pocket money to know what options may be available to help.
Will Medigap or Medicare Advantage Plans Cover Disposable Incontinence Supplies?
Medigap — Medicare Supplement insurance — plans will not cover disposable incontinence supplies. But some Medicare Advantage plans will.
Medicare Advantage plans are sold by private insurers. These plans are required by law to cover everything Original Medicare does, but they are allowed to provide additional benefits. Some plans will cover incontinence supplies.
Medicare Advantage plans differ depending on where you live and what plan you have. You should check with your plan's administrator to see if your Medicare Advantage plan covers the specific supplies you need or already use.
Where to Find Help Paying for Disposable Incontinence Supplies
If you need help paying for incontinence supplies, you may have to look to other resources ranging from nonprofits to private insurance to your state's Medicaid program.
Medicaid
Medicaid is a joint state and federal program to help pay medical bills for people with limited income and resources. If you meet dual eligibility requirements, you can enroll in both Medicare and Medicaid.
Each state can set many of its own rules for what Medicaid will cover, but a majority of states provide some level of Medicaid coverage for things like adult briefs, bladder control pads or other incontinence supplies.
You will need to check with your state Medicaid office about your eligibility and exactly what incontinence supplies may be covered.
U.S. Department of Veterans Affairs
The Department of Veterans Affairs does provide adult diapers as part of its VA health benefits. But it typically provides a standard issue type of adult diaper.
If you want a brand-name product — such as Depend or Attends — your doctor will have to provide the VA with a prescription or a statement of medical justification explaining the medical necessity as to why you need a particular brand.
Veteran-Directed Care — also called Home and Community Based Services — is a VA program that provides financial assistance to veterans. It's designed to give vets the flexibility to determine how to best spend the aid on their particular needs. If you qualify, you can use the assistance toward incontinence supplies.
Charitable Organizations
Diaper banks may be able to help when you cannot afford adult diapers. Most diaper banks focus on infants, but some provide adult diapers as well.
Find an Adult Diaper Bank
Diaper banks sometimes distribute adult incontinence supplies through food banks, senior centers, houses of worship or other community resource centers.
FSA, HSA and Employer Insurance Plans
The majority of employer insurance plans provided through major insurers do not cover most incontinence supplies, even though they may cover catheters. You should check with your plan's administrator to see if the supplies you need are covered.
If you have a Flexible Spending Account (FSA) or a Health Savings Account (HSA), you can use the pre-tax money you put into your account to pay for incontinence supplies, including adult diapers and pads.
Who Am I Calling?
Calling this number connects you to one of our trusted partners.
If you're interested in help navigating your options, a representative will provide you with a free, no-obligation consultation.
Our partners are committed to excellent customer service. They can match you with a qualified professional for your unique objectives.
We/Our Partners do not offer every plan available in your area. Any information provided is limited to those plans offered in your area. Please contact Medicare.gov or 1-800-MEDICARE to get information on all of your options.
888-694-0290