Guard Your COVID-19 Card
Written by

Rachel Christian

Rachel Christian

Financial Writer and Certified Educator in Personal Finance

Rachel Christian is a writer and researcher for RetireGuide. She covers annuities, Medicare, life insurance and other important retirement topics. Rachel is a member of the Association for Financial Counseling & Planning Education.

Read More

Published: May 27, 2021
4 min read time
This page features 6 Cited Research Articles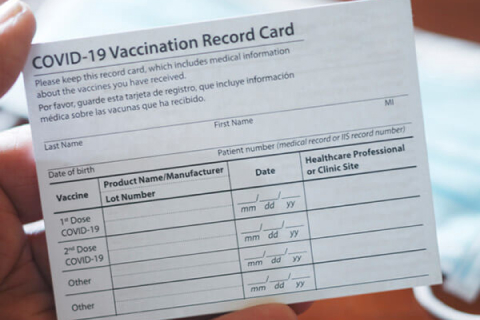 Medical experts agree: Getting the COVID-19 vaccine is the best way to protect yourself against coronavirus.
But experts say that protecting your vaccine card — the piece of paper you received along with your shot from a health care professional containing your personal information — is just as important.
"The vaccination record cards are a very important way to show that you have received the vaccine," Jeremy Lanier, public information officer for the Osceola County Florida Department of Health, told RetireGuide. "It's important for individuals to keep their vaccination record cards in a safe space with other personal documents."
According to the U.S. Centers for Medicare & Medicaid Services, scammers can use information from these vaccine cards to target recently vaccinated Americans.
Don't Post Your Card on Social Media
Sharing your recent vaccination with friends and family is fine, experts say.
But resist the urge to post your vaccine card on social media sites such as Facebook and Twitter.
COVID-19 vaccination cards contain personal information, including your full name, birth date, patient number and other details that scammers can use to steal your identity and commit fraud.
If you've already posted a picture of your COVID-19 card online, remove it immediately, says a recent FBI alert.
AARP recommends treating your vaccine card as you would your Social Security card. It's important, private and unique to you.
The U.S. Department of Health and Human Services Office of Inspector General has advised older Americans to be aware of fraud attempts and scams.
Protect Yourself Against COVID-19 Vaccine Scams
Don't fall for offers to purchase COVID-19 vaccination cards. Valid proof of vaccination is granted only by legitimate providers administering vaccines.
You will not be asked to pay money to enhance your ranking for vaccine eligibility.
Government and state officials will not call you to retrieve personal information before you receive a shot.
Medicare will not call you to offer COVID-19 related products or services.
If you make an appointment for a COVID-19 vaccine online, make sure the location is an official testing site.
Be cautious of any unsolicited requests for your personal, medical and financial information.
If you believe you've been contacted by a COVID-19 scammer, you can report it to the Department of Health and Human Services by calling 800-447-8477.
Tips for Protecting Your COVID-19 Vaccine Card
When you receive your COVID-19 vaccination, you'll be given a vaccine card.
The CDC logo will be printed on the front along with your personal information and the health care agency that administered your shot.
Many experts recommend taking a picture of your vaccine card with your phone or scanning a picture of it onto your computer before storing the physical copy in a safe place.
You can store the hard copy at home with other important documents, such as your birth certificate or Social Security card.
You may also want to print a copy of the vaccination card to store in your wallet.
Some experts advise that you not laminate your card because it contains blank spaces to record future shots, including a booster shot if one becomes available in the future.
If you want to keep your original card clean and stain-free, you can purchase a plastic sleeve instead, like the kind used for ID badges.
However, other experts say it's up to you if you want to laminate your card.
"Lamination of record cards is a personal decision," Lanier said. "But if those cards are damaged during your attempt to preserve the card, a record of vaccination can be provided by your immunizations department."
How to Get a Replacement COVID-19 Card
If you lose your COVID-19 vaccination card, don't panic. The paper card you received isn't the only record of your vaccination status.
If you misplaced your card or never received a copy, the CDC recommends contacting your vaccination provider directly to access your record.
If you can't contact your vaccination provider, reach out to your state health department's immunization information system, or IIS.
Vaccination providers are required to report COVID-19 vaccinations to their IIS and related systems.