Estate Planning in the Era of COVID-19

Written by

Rachel Christian

Rachel Christian

Financial Writer and Certified Educator in Personal Finance

Rachel Christian is a writer and researcher for RetireGuide. She covers annuities, Medicare, life insurance and other important retirement topics. Rachel is a member of the Association for Financial Counseling & Planning Education.

Read More

Edited By

Matt Mauney

Matt Mauney

Financial Editor

Matt Mauney is an award-winning journalist, editor, writer and content strategist with more than 15 years of professional experience working for nationally recognized newspapers and digital brands. He has contributed content for ChicagoTribune.com, LATimes.com, The Hill and the American Cancer Society, and he was part of the Orlando Sentinel digital staff that was named a Pulitzer Prize finalist in 2017.

Read More

Published: August 25, 2020
5 min read time
This page features 7 Cited Research Articles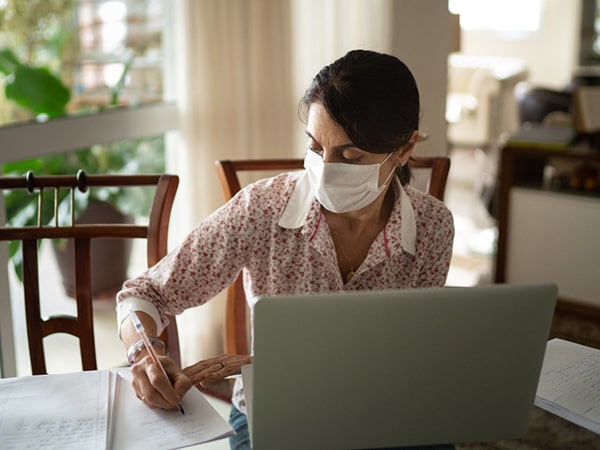 People hospitalized with COVID-19 are often immediately isolated from family and friends.
This can make it difficult — or even impossible — to finalize crucial end-of-life decisions. That's why many legal experts say now is a good time to put a plan in place.
"Think of estate planning documents as your wish list," attorney Keri Norris told RetireGuide. Norris serves as chief legal officer at LegalShield, a subscription service that connects clients with attorneys in their area.
According to Norris, concerns over health and safety are prompting more Americans to get their final affairs in order.
From January to July 2020, LegalShield reported more than 160,000 requests related to estate planning — a 34 percent year-over-year increase.
It marked a record high in the company's 48-year history, according to spokesperson Doug Donsky.
A lot of people are looking at estate planning for the first time with questions about their future.
LegalShield experienced its biggest inquiry spike in March and April, when the coronavirus outbreak took hold in the U.S. and states shut down.
Data also shows multigenerational interest in estate planning.
While baby boomers accounted for most inquires, 27 percent came from people age 40 to 55 and 12 percent came from millennials, or people age 24 to 39.
"I think that really shows that everyone is being impacted by this," Norris said. "A lot of people are looking at estate planning for the first time with questions about their future."
What Is an Estate Plan?
An estate plan is more than just a will.
It is a collection of legal documents that outline what you want to happen if you can't make your own decisions and how your affairs should be handled after you die.
Common Parts of an Estate Plan
Will (also called a last will and testament)
Power of attorney
Advanced medical directive
Trust
Living will
Without these documents, the state will determine where your belongings go and who receives them after you die. It can also leave the guardianship of your minor children in limbo.
A good estate plan will also connect your life insurance and retirement benefits to your will or trust to make sure money goes to the correct beneficiary.
A power of attorney and living will specify how you want to be treated when you're incapacitated. Do you want a ventilator to keep you alive? If so, for how long? Who should make time-sensitive financial decisions on your behalf?
"Your children or spouse aren't faced with these agonizing decisions. You've taken that burden off of them," Rachel Wilson, an attorney at Nest Estate Planning in Savannah, Georgia — told RetireGuide. "Which is a huge relief."
Who Needs a Will or Trust?
Everyone may not need to create a will or trust.
People with very modest incomes and minimal assets may be able to take a do-it-yourself approach.
Online services exist that allow people to create a legally binding will for as little as $20 to $100.
But experts at the American Bar Association caution against prioritizing convenience over expertise.
"Mistakes made in the drafting of such an important document can profoundly alter familial relationships, leaving our family members at best confused or disappointed and at worst locked in hostile litigation," according to the association's website.
If you own property or run a business, it's wise to consult a professional.
Wilson said that expert help is especially beneficial for people with minor children or blended families.
"By not planning, you're putting your surviving spouse and the children from your first marriage at odds with each other after you die," she said.
Why Estate Planning Is Important
The COVID-19 pandemic is an example of how quickly things can change. Experts say it's important to make sure you and your family are prepared.
A 2019 report from Caring.com found that only 40 percent of people surveyed had established a will or trust.
By planning in advance, you're doing everything you can to preserve family harmony.
Putting your wishes down in writing eliminates confusion for your loved ones and minimizes unnecessary turmoil.
Otherwise, things can get ugly.
"I've seen families fight over a lawnmower before," Wilson said. "I'm serious."
Creating an estate plan can also save your family time and money. Court and attorney fees add up quickly if there's a dispute or issues during probate.
"By planning in advance, you're doing everything you can to preserve family harmony," Wilson added.
Also make sure your family knows where your estate documents are stored or how they can obtain a copy.
Keep Your Estate Plan Updated
Estate planning documents generally don't expire. But keeping them updated is critical.
"The reality is that we're in a global pandemic and this is a scary time for a lot of people," Wilson said.
Priorities and relationships shift over time. Reviewing documents every three to five years ensures your wishes are up to date and will be carried out the way you want.
Major life events — such as a divorce or the birth of a child — are good opportunities to review your documents.
How Much Does Estate Planning Cost?
Consulting an attorney is ideal, and there's ways to save money along the way.
Many states offer legal aid resources to reduce costs for qualifying low-income individuals.
Look for lawyers who advertise discounted rates or specials. Ask for estimates and get quotes from a few different firms. And make sure to take advantage of free consultations.
Some attorneys are even launching promotions specific to COVID-19.
In general, hiring a lawyer may cost less than you think, said Barbara O'Neill, a professor at Rutgers University and CEO of Money Talk, a financial education consulting firm.
When O'Neill and her husband moved to Florida last year, they were both able to create a will, durable power of attorney and living will for $650 total.
O'Neill told RetireGuide that preparation is key if you want to save money.
"If you can get all the personal details of what you want written out in advance, that helps save a lot of time," O'Neill said.
Many practices will provide an estate planning checklist of documents to bring with you to your first appointment.
O'Neill also suggests brainstorming questions before you go.
"That way you can get right down to business," she said. "If you're working with a professional who charges a fee for their service, it's always good to make the most efficient use of that time."
Your web browser is no longer supported by Microsoft. Update your browser for more security, speed and compatibility.
If you need help pricing and building your medicare plan, call us at 844-572-0696