Most Pre-Retirees Have Limited Knowledge, Heightened Interest in Annuities

Written by

Terry Turner

Terry Turner

Senior Financial Writer and Financial Wellness Facilitator

Terry Turner has more than 35 years of journalism experience, including covering benefits, spending and congressional action on federal programs such as Social Security and Medicare. He is a Certified Financial Wellness Facilitator through the National Wellness Institute and the Foundation for Financial Wellness and a member of the Association for Financial Counseling & Planning Education (AFCPE®).

Read More

Published: November 20, 2020
4 min read time
This page features 3 Cited Research Articles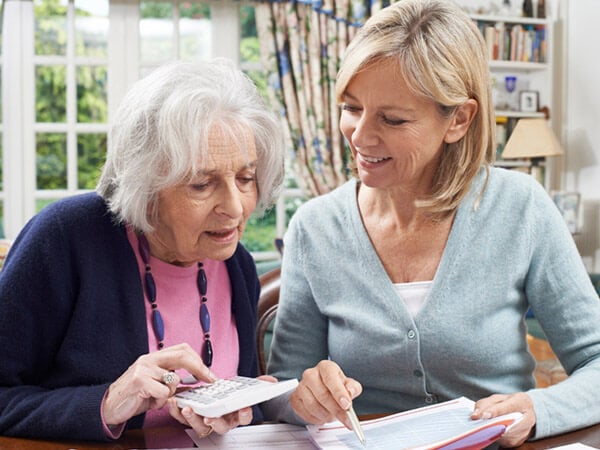 Six in 10 Americans don't understand annuities and the role they play in providing a lifetime income throughout retirement, according to a new report from the Alliance for Lifetime Income (ALI). Despite that, the alliance has found a significant uptick in households adding protected income — annuities or pensions — to their retirement portfolio.
The ALI's new survey estimates 3.1 million American households added or pensions to their retirement plans this year. The percentage of households with protected income in retirement increased from 37 percent in 2019 to 40 percent this year.
"Our research shows the pandemic and resulting market and economic conditions have triggered what we are calling a 'retirement reset,' forcing Americans to rethink their retirement plans and protect their retirement income," Jean Statler, the alliance's CEO, said in a statement.
The Alliance for Lifetime Income is a non-profit consumer education organization focused on educating people about protected income through annuities as part of retirement planning.
Its new survey shows that despite heightened interest, there is still very little understanding among Americans facing retirement about the sources of protected income they need to include in their retirement planning.
"Protected income obviously comes from three things: annuities, Social Security and — if you're lucky to have one — a pension," Cyrus Bamji, communications director at the Alliance for Lifetime Income, told RetireGuide.
Interest in Annuities Growing Despite Lack of Understanding
The alliance's survey indicates that people with protected income tend to feel more confident about their financial future in retirement.
But the lines break sharply along generational lines — between older retirees with traditional pension income and younger workers and retirees who came along as pensions disappeared.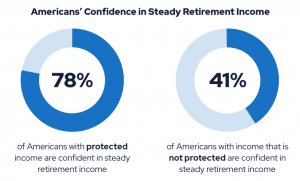 The ALI survey results suggest annuities may be filling the void left by the decline of pensions. In 2019, USA Today reported that almost two out of every three pension funds had contemplated getting rid of guaranteed benefits to new workers by 2024.
Most companies no longer offer defined-benefit pensions which pay a guaranteed monthly payment to workers for the rest of their lives when they retire. Instead, they tend to offer 401(k) retirement plans or similar plans that provide savings, but promise no protected income.
"As pensions have waned, that's where the interest in annuities has picked up," Bamji said. "And obviously with the current 'retirement reset' there's an even bigger uptick in interest in annuities to fill the gap that disappearing pensions have left."
Pensions' safety net of a protected monthly income, regardless of how long you live in retirement, is a major factor in people's confidence that they will have enough income in retirement, according to the alliance.
Limited Knowledge of Annuities Affect Retirement Planning, Confidence
The alliance survey found only about one in 10 pre-retirees believed they understood annuities "very well." But more than half of those surveyed said they were at least somewhat interested in the idea of investing in annuities as part of their retirement plan.
Non-Retired Americans Who Understand the Role of Annuities and Level of Interest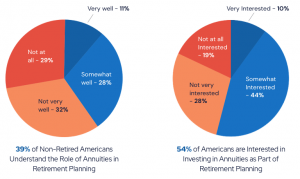 Source: Alliance for Lifetime Income
"The biggest thing is simplifying the understanding of annuities," Bamji said. "There's still a lot of jargon, a lot of difficult language around annuities."
He says that a lot of the language used when discussing annuities – even with your financial advisor — is shaped by regulations. Rules that govern annuities determine what words and terms have to be used when an advisor discusses annuities.
"Trying to explain the language of annuities and annuities themselves in the simplest way possible are the two most important ways to educate people about annuities and lifetime income," Bamji said.
It's a key part of what the Alliance for Lifetime Income has been focused on in the three years it's been working to educate Americans about annuities.
Bamji also points out that one of the most difficult parts of anyone's retirement planning is trying to estimate how long they will live in retirement. That makes it difficult to figure out exactly how far you can stretch retirement savings from a 401k, individual retirement account (IRA) or other similar retirement plans.
"That is probably the most difficult thing for anybody in the profession to predict — how long you're going to live," Bamji said.
Bamji said it's "mind boggling" for some financial professionals to deal with the idea that a client planning retirement in their fifties may actually live for 20 or 30 years after they retire at 67.