Technology for Seniors
Digital technology promises to make life easier and more convenient for people as they age. But studies show that aging Americans have reservations about digital devices and other tech, including frustrations about learning how to use the devices and concerns about privacy.
How Can Technology Help Retirees?
The digital divide between retirement-aged and younger Americans has been closing rapidly since the early 2010s. Younger people tend to be more early adopters of new tech — and many of them have aged into retirement since 2010.
At the same time, the COVID-19 pandemic fueled a tech buying boom among people 65 and older. Retirees increasingly bought new devices and turned to digital connections to buy products and services, pay bills and stay in touch.
Top Pandemic Uses of Smart Devices Among Americans 50 and Older
Ordering groceries
Joining personal health and telehealth visits
Ordering prescriptions
Managing health care appointments
Accessing health and fitness information
Coordinating financial transactions and banking
But even as older Americans bought — or bought into — newer technologies, they still reported problems using them.
Frustration in learning how to use technology was one of the leading barriers leading to older Americans' reluctance to use new technology, according to a 2019 study from the University of California San Diego.
More than half of people 50 and older — 54% — told a survey by AARP that they wanted a better understanding of how to use new devices. And 37% of those surveyed said they weren't as confident as they'd like to be when using new technology while another 34% worried about privacy concerns.
What Devices Are Available?
Older Americans have been on a buying spree for new digital devices as they become more common and tech-savvy among Generation X ages. COVID-19 has also driven purchases of entertainment devices by older Americans.
Top Tech Purchase Among Americans 50 or Older
Smartphones
Smart televisions
Earbuds or Bluetooth headsets
Further illustrating this trend is a study by the Pew Research Center which reveals that smartphone ownership among people 65 and older has more than quadrupled and social media usage has tripled between 2012 and 2021.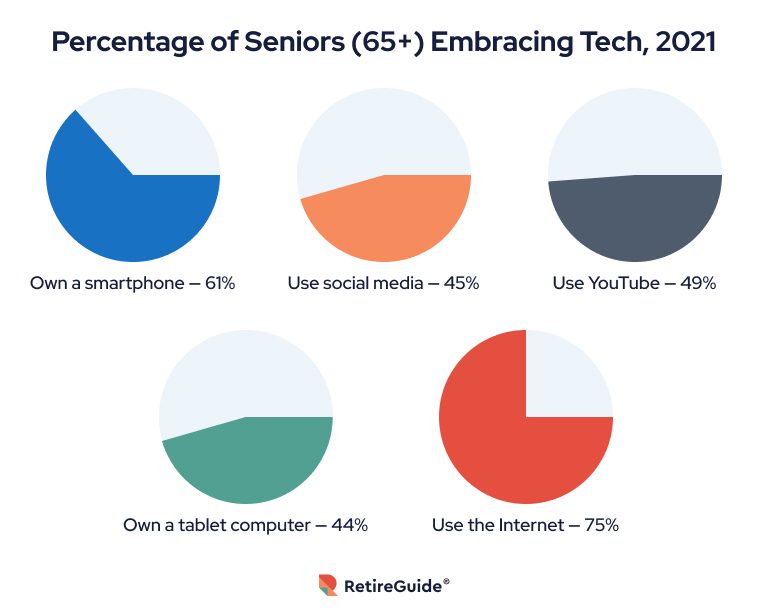 Benefits of Digital Devices for Seniors
Cell Phones and Smartphones
Smartphones provide a wealth of features that seniors can keep in a pocket or somewhere else on their person for quick access.
With a smartphone, seniors can:
Communicate easily and conveniently with family and friends
Monitor daily health and fitness activities via apps
Access entertainment and information
Gain peace of mind by having a phone on their person
Quickly call for help in emergencies
Tablets
Digital tablets offer the same benefits as smartphones, but their larger screens are an added benefit for seniors as their eyesight fades with age.
Tablets offer:
Entertainment like videos, games and reading on a page-sized screen
Portability
User-friendliness
Fitness Trackers
A fitness tracker can be a great tool to help encourage seniors to keep physically active. Some models are even made with seniors specifically in mind. With a fitness tracker, like a Fitbit or Apple Watch, seniors have access to:
The ability to set and track fitness goals
Activity and sleep monitoring
Health monitoring
Social connectivity allowing interaction and motivation by digital groups or communities
Smart Home Devices
A smart home device allows voice control of many devices in the home, providing convenience — especially if mobility becomes an issue.
Capabilities include:
Voice control of lights, appliances, thermostats, televisions and other connected devices
The ability to make both emergency and regular phone calls
Home security and emergency features for added personal security and safety
Medication reminders
Online grocery shopping
Hearing Aids
Recent years have seen significant advances in hearing aid technology, allowing the devices to connect to other devices and offer new features.
Some of these features include:
Artificial intelligence allowing you to set the hearing aid to process sounds in different environments more effectively
Bluetooth compatibility with smartphones, tablets and other Bluetooth devices
Connection to apps, allowing you to adjust the hearing aid on your smartphone or another device
Features to mask tinnitus
Rechargeable batteries
Never Miss Important News or Updates
Get money-saving tips, hard-to-find info and tactics for a successful retirement in our free weekly newsletter.
What Apps and Technology Services Are Available for Seniors?
Digital services, from telehealth to food delivery, are available at the tip of your finger with digital applications. These apps can make your life easier, but also come with some downsides — namely, fees.
It pays to look for free services and free apps to maximize convenience and minimize cost. You can find these apps in the App Store if you use an Apple device or Google Play Store if you have an Android phone or device.
Food Delivery Apps
Food delivery apps fall into restaurant delivery (Uber Eats, DoorDash, GrubHub, etc.), homemade meal delivery (Blue Apron, Hello Fresh, etc.) and grocery delivery (Amazon Fresh, Instacart and various grocery chains).
Beware of delivery fees that can seriously run up the cost versus going to the restaurant or store itself. If you qualify for Meals on Wheels in your community, there's also an app for that free food service.
Health and Fitness Apps
Check with your doctor's office, hospital system and pharmacy about the app each uses. These can save you time — and sometimes money — when you schedule an appointment or order a prescription refill. They can also organize your appointment schedules, medication list and reports on your latest visit or lab results.
There are over two million fitness apps to choose from. Narrow your field by choosing one for your particular activities like walking, yoga and training. Or look for one that allows you to choose from a list of workouts. Many smartphones, smartwatches and fitness trackers come with their own fitness apps included.
You can also check for the highest-rated apps with the most reviews and look for reviews for ones that are user-friendly.
Internet Service Providers
To connect to the internet, you need an internet service provider, or ISP. These are companies that connect your computer to the internet. The big-name providers include Xfinity, AT&T, Spectrum, Cox and CenturyLink.
But seniors — and others on a fixed income or with limited resources — may have other options that could save money on their monthly bills. Some options include special programs offered by the big-name ISPs.
Low-Cost Internet Service Providers for Seniors
A federal program that offers savings of $30 per month on internet service plus discounts for a computer. Some of the major ISPs — including Spectrum, Xfinity and AT&T — offer discounts and other benefits if you enroll in the program.

People on Medicaid, SSI, Snap, VA benefits or enrolled in other state and federal programs are eligible for reduced rates for phone, internet and bundled services.

Offers high-speed internet access in some neighborhoods for as little as $20 per month.

Local Networks

Some cities offer free public internet access on municipal Wi-Fi networks.
Medication Management Apps
Medication management apps help you keep track of when — and if — you've taken your medications on time. You can set these apps to send you reminders when it's time to take a particular medication.
They also include other features to help you manage your prescriptions and over-the-counter medicines.
Common Features of Medication Management Apps
Reminders to take medications
Ability to manage multiple users
Ability to share data with family or your doctor
Checking for drug interactions among your prescriptions
Data privacy and security
Education and information about your medications
Pill identifier tools
Symptom trackers
Synchronization with other apps or devices
They may also come with features you can customize to your particular needs.
There are over 300,000 medication management and other health-related apps available through the App Store for Apple devices and through Google Play for Android.
Look for one with high ratings from many reviewers that matches your medication management needs.
Transportation Apps
Roughly half of Americans 65 and older do not have access to public transportation. That becomes a problem when you give up driving as you age.
There are apps that can help you catch a ride, whether or not you have public transportation access.
Types of Transportation Apps for Seniors
Public Transportation Apps

Check with your local public transportation system. Most offer apps that will tell you when the next bus, train or ferry will arrive and provide route information to get you from where you are to where you want to be.

The Paratransit App

If available in your locale, this app specializes in arranging transportation for people with disabilities or limited mobility. Vehicles are buses or cabs that can be more flexible on their routes to accommodate people who qualify for the service under the Americans with Disabilities Act. You may have to book trips a day in advance and the pickup window at your home might be within a 30-minute window.

Taxi and Rideshare Apps

Uber and Lyft apps can provide you with on-demand ride services. Your local taxi service will likely have an app of its own that the service can point you to if you ask.
Video Calling Apps
Video calling apps zoomed to the forefront of communication apps during the pandemic. They were a way to give a sense of face-to-face connections between seniors and their family and friends. But they aren't always easy to use.
Some easy — and free — video calling options are available that can reduce your frustrations.
Top Video Call Apps for Seniors
FaceTime

Apple's proprietary video call app works with all connected Apple devices, whether iPhone, iPad or Mac computers. You can connect with anyone as long as they also use an Apple device. You can round up the whole family — or at least 32 people at a time — for group FaceTime chats.

Google Duo

Similar to FaceTime, Duo works over the web with Windows, Apple and Android devices. It's pre-installed on most Android devices and works through your Google (Gmail) account.

Marco Polo

Allows you to send video messages, in case you can't talk in real-time. This can be convenient for talking to family members on the far side of the globe or working unusual hours. The app allows for group chats and Marco Polo saves all your messages so you — and anyone else in the group chat — can revisit them at your convenience.

Skype

Owned by Microsoft and works on Apple, Android and Windows devices. In addition to video chats, it supports audio calls and text messaging. The number of people who can join a video chat or audio call depends on the device you're using. But you can record and save your conversations.

WhatsApp

This app works on both Android and Apple devices and provides encryption so that only you and the person you video chat with are privy to the conversation. Besides video chats, the WhatsApp app lets you send text messages or make audio calls.

Zoom

Best known for business applications, Zoom provides high-quality connections and is relatively simple to use. It works with Apple, Android and Windows. One setback: the free version of Zoom imposes a time limit for three or more users.
Virtual Retirement Communities
Combining available apps allows users to create virtual retirement communities, including virtual assisted living.
The idea took form during COVID-19 as families combined food and drug delivery, transportation and other apps along with smart devices to help provide care for family members who needed assisted living.
The devices and apps can reduce demands on adult children assisting aging parents and may extend a senior's ability to stay in their home longer. Prior to the pandemic, the average age for people entering assisted living facilities was in the mid-80s.
Accessibility Options for Seniors
People with limited mobility, hearing loss, visual impairments or other conditions can face complications with digital devices that make it much more difficult to use them.
You can address many of these through accessibility options on the device.
Examples of Accessibility Options on Digital Devices
Make Text Easier To Read

You can increase the size of the text and adjust contrast to make the text more readable on a device screen. Adjusting contrast can make icons and colors more distinguishable and better defined. Most devices also provide a magnification feature or shortcut that allows you to magnify a portion of the screen to more easily see it.

Listen to Text

If making the text easier to read still isn't enough for your visual impairment, devices may allow you to listen to the text on your screen. Android devices use "Select-to-Speak" and "TalkBack" options. Apple devices use "VoiceOver." These options effectively read the text to you.

Motor Skill Accommodations

Most devices include a function that allows you to add adaptive devices. You can also adjust touch controls on iPhone and Android devices that change how long you have to touch the screen or set them to respond to facial gestures. You can use voice commands on most devices that allow you to speak your commands instead of typing them on the device's keyboard.

Simplify the Interface

The interface consists of the icons that allow you to navigate your device. Apple devices are pretty rigid about allowing you to change the interface, but Android devices provide apps that may simplify your interface with more vivid and larger icons.
To adjust accessibility features, you typically need to go to the "Settings" control on your device and click "Accessibility." From there, you'll find a list of options — but different devices may have different terms for each function.
Last Modified: July 22, 2022
Share This Page
13 Cited Research Articles