Medicare Part D Enrollment
Medicare Part D plans offer prescription drug coverage to beneficiaries. This coverage is not available through Original Medicare. Part D plans are provided by private insurance companies, so you will have to enroll in a private plan for coverage. You can opt for a stand-alone plan paired with Original Medicare or a Medicare Advantage plan that includes drug coverage.
Written by

Christian Simmons

Christian Simmons

Financial Writer

Christian Simmons is a writer for RetireGuide and a member of the Association for Financial Counseling & Planning Education (AFCPE®). He covers Medicare and important retirement topics. Christian is a former winner of a Florida Society of News Editors journalism contest and has written professionally since 2016.

Read More

Edited By

Lamia Chowdhury

Lamia Chowdhury

Financial Editor

Lamia Chowdhury is a financial content editor for RetireGuide and has over three years of marketing experience in the finance industry. She has written copy for both digital and print pieces ranging from blogs, radio scripts and search ads to billboards, brochures, mailers and more.

Read More

Published: April 6, 2022
Updated: May 23, 2023
5 min read time
This page features 3 Cited Research Articles
Who Is Eligible to Enroll in Medicare Part D?
To be eligible to enroll in a Part D plan, you must also be eligible for Medicare. This means you typically must be 65 or older. How you enroll and the options available to you will differ depending on whether you are opting for Original Medicare or Medicare Advantage.
Enrolling in Part D with Original Medicare
If you have Original Medicare or are planning to enroll in it, then you will need to find and enroll in a stand-alone drug plan. Remember that Original Medicare is provided by the federal government. Since Part D plans are private, you will essentially purchase a plan to pair with your Medicare coverage.
The plan will be separate from the rest of your health care, meaning it will come with its own monthly premium in addition to what you pay Medicare. When searching for a plan, make sure you are comparing prices and checking the plan's formulary to ensure that the medications you need are covered.
Enrolling in Part D with Medicare Advantage
Another way of getting Part D is to enroll in a Medicare Advantage plan. Like stand-alone plans, Medicare Advantage is provided by private insurers, but it replaces Original Medicare instead of existing alongside it.
Medicare Advantage plans must cover, at minimum, everything included in Original Medicare, as well as expanded coverage. These plans often include prescription drug coverage. A benefit of going this route is that all your health care would be included under one plan and one premium, unlike pairing Original Medicare with a stand-alone plan.
Don't Leave Your Health to Chance
Find a local Medicare plan that fits your needs by connecting with a licensed GoHealth insurance agent.
When Are the Medicare Part D Enrollment Periods?
Once you are eligible, there are several different points throughout the year where you are allowed to enroll in a Part D plan.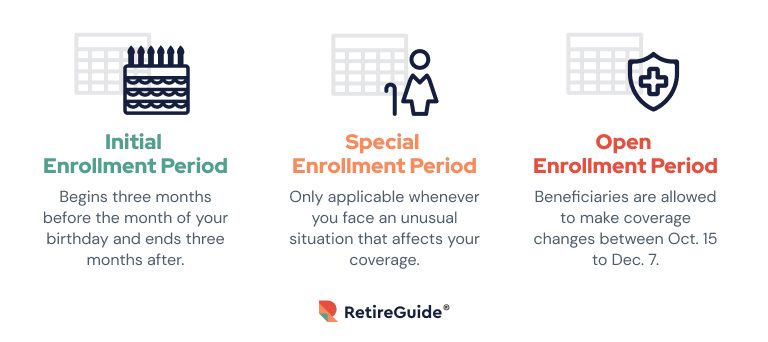 Initial Enrollment Period
You can find and enroll in a prescription drug plan when you first become eligible for Medicare. This is known as your initial enrollment period. It last for seven months, beginning three months before the month of your birthday and ending three months after.
If you don't enroll in Part D when first eligible, you may end up with increased premiums due to a penalty when you do eventually enroll.
Special Enrollment Period
There are certain life situations you may encounter that can trigger a special enrollment period, allowing you to enroll in a Part D plan outside of the usual allotted timeframes.
According to the U.S. Centers for Medicare & Medicaid Services, you could qualify for a special enrollment period if you unexpectedly lost your current coverage, moved outside of your current plan's area, as well as a number of other special situations.
Essentially, you may be able to enroll in a plan whenever you face an unusual situation that affects the status of your current coverage.
Open Enrollment Period
Each year after you become eligible for Medicare, there will be an open enrollment period where you can make any desired coverage changes, including enrolling in a prescription drug plan.
This period runs from Oct. 15 to Dec. 7. Additionally, there is a second open enrollment period for beneficiaries who already have Medicare Advantage that lasts from Jan. 1 to March 31. During this period, you can switch to a different Medicare Advantage plan that includes drug coverage or switch back to Original Medicare and purchase a stand-alone plan.
Are There Late Enrollment Penalties?
There is a late enrollment penalty if you fail to sign up for prescription drug coverage when you first become eligible. The penalty comes in the form of an increased premium once you do sign up for a plan.
The Part D penalty goes into effect if there is ever a period of 63 days or more where you don't have drug coverage. The penalty is calculated by taking 1% of the national base beneficiary premium (essentially the average national premium for Part D plans) and multiplying it by the number of months you went without drug coverage.
How is Your Part D Penalty Calculated?
Step 1: Find the national base beneficiary premium.
Step 2: Take 1% of the base beneficiary premium.
Step 3: Multiply the number of months you didn't have drug coverage by that 1% figure.
Your penalty can change year-to-year as the national base premium is recalculated. You typically must continue to pay the penalty for as long as you have drug coverage.
There is a way to avoid the penalty even if you didn't sign up for Part D. Beneficiaries are exempt if they can show that in the interim, they had drug coverage that was equal to or better than a Part D plan. A common example would be health insurance that you have through an employer.
3 Minute Quiz: Can You Retire Comfortably?
Take our free quiz & match with a financial advisor in 3 easy steps. Tailored to your goals. Near you or online.
How Do You Enroll in Medicare Part D?
When enrolling in Part D, it is important to make sure that you have considered all your options. Be sure to compare the plans in your area, both for costs and formularies. If there is a certain medication you need or expect to need one day, it's important to make sure that it is covered.
Medicare offers a plan finder tool that can help you locate plans available in your area. You also should compare different providers near you to look into things like how well they are rated and how their customer service is.
You should also be sure to compare whether it makes more sense for you to purchase a stand-alone plan or switch entirely to Medicare Advantage. Depending on the plan's available near you and your personal health needs, each option can make sense for you.
Last Modified: May 23, 2023
Share This Page
Who Am I Calling?
Calling this number connects you to one of our trusted partners.
If you're interested in help navigating your options, a representative will provide you with a free, no-obligation consultation.
Our partners are committed to excellent customer service. They can match you with a qualified professional for your unique objectives.
We/Our Partners do not offer every plan available in your area. Any information provided is limited to those plans offered in your area. Please contact Medicare.gov or 1-800-MEDICARE to get information on all of your options.
888-694-0290
Your web browser is no longer supported by Microsoft. Update your browser for more security, speed and compatibility.
If you need help pricing and building your medicare plan, call us at 844-572-0696